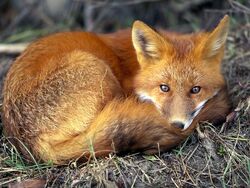 Foxes are those pretentious orange assholes that bitch around all day and like to drink tea and pick on kitties whenever they get the chance.
Midnight the fortune-teller can speak fox.
Foxes are known for their intelligance (intelligance compared to dead caterpillars) and their love for cat flesh and iPods, which is their single similarity to ThunderClan.
Also IT WAS ONE OF THESE BUGGERS THAT KILLED MINTKIT AND MARIGOLDKIT, BROKENTAIL, YOU FUCKING ASSHOLE.