Yoda
Affiliations
Current:
Rogue
Past:
Jedi
Names
All-powerful PWNER:
Yoda
Family
*
Unknown
Education
Mentor(s):
Who cares? This isn't Star Wars!
Apprentice(s):
Who cares? This isn't Star Wars!
"PWN teh kitties, I will."
―Yoda when facing Clan cats.
Yoda was a former jedi from Star Wars. He moved to Warriors and became a rogue. Whenever he sees kitties in the forest, he PWNS them.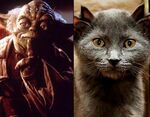 Biography
Edit
How Yoda pwned Tigerclaw
Edit
Tigerclaw was walking towards some bushes just as Yoda jumped out and yelled, "pwn teh kitties, I will! MAUHAHAHAA!" Tigerclaw screamed like a lil' kitty and then ran away as Yoda chased him with a lightsaber.
How Yoda became a PWNER
Edit
He got awesome training from teh StarClan cats that he lived with and he livd with em because he is so awesum!!!!! "ay Yoda train with us pls" thats what teh StarClan cats said before deciding to train the awesome Yoda.